Scientists may one day find cures for autism, Alzheimer's disease and cancer, but they literally can't do it without you. They need your DNA for research.


EncrypGen empowers individuals to provide their DNA to help nurture scientific research and advance precision medicine.

The Medical Breakthroughs Genetics Researchers Have Made, and Why We Still Have a Long Way to Go
Using DNA data, researchers are making rapid breakthroughs in their knowledge of and treatment options for diseases both acquired and genetic. But for all the advances in genetic medicine that have occurred in the last decade, there is still an incredibly long way to go. According to the Genetic Disease Foundation, more than 6,000 genetic diseases exist and are passed down through generations. Some are far more common in certain ethnic groups, while others affect all populations. Many are severely debilitating and some are fatal.
Scientists have studied a mere fraction of our genes. A few are well-studied but most are not. Thanks to the Human Genome Project, we have a detailed map of the human genome, which means researchers know precisely where each gene occurs in the sequence. But their understanding of what the majority are responsible for within the body remains exceptionally scarce.
Incredible achievements occur when scientists are able to access genetic data and conduct focused research. According to the American Society of Gene & Cell Therapy (ASGCT), multiple gene therapy strategies and treatments for various forms of cancer are in the advanced stages of clinical trials. Gene therapy trials in animals for the treatment of neurodegenerative diseases such as Parkinson's disease and Huntington's disease have had promising results, and phase one clinical trials in humans are scheduled to begin soon. Ailments like heart disease, diabetes, and viral infections such as influenza and hepatitis have also been shown to respond to gene therapy. Clinical trials for gene-therapy treatments of these afflictions are now or are soon to be underway in most cases.
Researchers have also achieved remission or "cures" of several genetic disorders in small trials. For example, genetic scientists in Italy used gene therapy in the treatment of Severe Combined Immune Deficiency (ADA-SCID), also known as the bubble boy disease, in which a severely compromised immune system prevents the affected from living outside of a protective bubble unless they receive a bone marrow transplant. In a landmark study, scientists introduced a therapeutic gene into six patients and successfully cured them of the disease without noticeable side effects. Other genetic disorders that have benefited from genetic research include hemophilia, chronic granulomatous disorder, and muscular dystrophy.
And researchers are rushing to develop medications that aid more run-of-the-mill illnesses too. Through the study of people of African descent who had notably low cholesterol, researchers discovered they all had a gene mutation that kept their levels low and diminished the risk of heart attacks, reports Smithsonian.com. Using this information, scientists are developing cholesterol medications for the general population that mimic this beneficial mutation.
Continued advancements in genetic research require large numbers of participants across diverse populations. By providing your DNA data to researchers, you could quite literally be helping to find cures for life-shattering illnesses and fatal diseases.
Maintain Control of Your Data, Support Research and Get Paid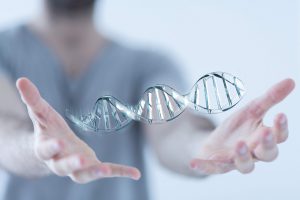 EncrypGen created the world's first genomic data marketplace to
put individuals in control of their DNA data and empower them to provide their DNA to help nurture scientific research and advance precision medicine. When you upload your DNA data file to EncrypGen's secure Gene-Chain platform, secure blockchain, you retain complete control of your data. If you choose to share it with researchers, you may do so in EncrypGen's Gene-Chain DNA data marketplace. In this unique peer-to-peer marketplace, you choose what kind of genetic research to support, and you decide whether to donate your data or negotiate its sale. Learn more about EncrypGen and how you can securely contribute your DNA data to remarkable, world-changing scientific breakthroughs.
Haven't taken a DNA test yet? Buy a DNA test kit in the Gene-Chain Marketplace now.
Source: https://www.genome.gov/27561546/participating-in-genomics-research/